Autumn Term
Early Years Learn about Diwali
In the first half of the Autumn Term Reception children learnt about the festival of Diwali.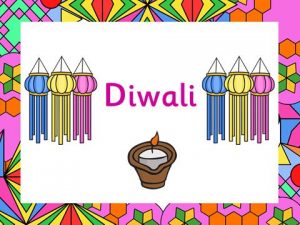 Diwali is a very important holiday in India. It is a Hindu €˜festival of lights€™ which celebrates the New Year. The word Diwali means €˜row of lighted lamps€™.
The festival usually honours Lakshmi, the goddess of wealth.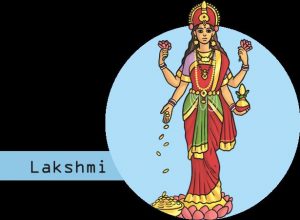 Lamps are lit to help Lakshmi find her way into people€™s homes.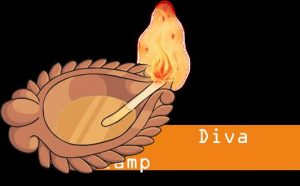 They also celebrate a Diwali legend, the story of the return of Rama and Sita to Rama€™s kingdom after fourteen years of exile.
To celebrate Diwali, the children created their own pictures linked to the festival using chalk in the outdoor area.
Portraits – Rene Magritte and Leonardo Da Vinci
Key Stage 2 children have been learning about the French artist Magritte and the Italian artist Leonardo Da Vinci this term. They have looked at a piece of art called 'The Son of a Man' to inspire them to create their own piece of work. They have also studied 'The Mona Lisa.' They created an information page about Da Vinci and his work. Children created their own personalised Mona Lisa using an I-Pad App.
See some fantastic examples of the work below.
Monet – Bridging Impressionism
Key Stage 1 children have been learning about the French artist Monet this term. They have looked at a piece of art called 'Japanese Bridge at Giverny' to inspire them to create their own piece of work. They have also learnt about the life of Monet.
See some of the fabulous pieces of work the children have created below.
Display of Autumn Term Art from Around the World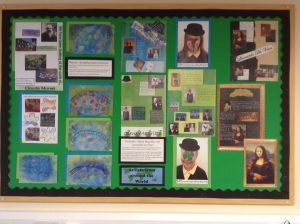 Henna Hands
In art this week, Class 4 have been looking at different ways hands can be decorated. Mehndi is an art form of body art which originated in Ancient India. People from the Maldives, Nepal and Bangladesh also use Mehndi.
Hamsa Hands
The Hamsa is an ancient Middle Eastern amulet symbolising the Hand of God. It is believed to bring its owner happiness, luck, health and good fortune.
The Hamsa Amulet
Let's get creative!
Spring Term Art From Around The World
Henry Matisse
This term KS2 Children have learnt about the artist Henry Matisse. At the beginning of his career, Matisse focused on painting landscapes and still-lifes in a traditional style. Following a meeting with the Australian artist, John Peter Russell, Matisse's style changed. He started to produce work influenced by the Impressionist movement and he also admired the work of Cezanne.
Fabulous Displays
Key Stage 1 link Art with Geography
Mexican Art

Summer Term Art in KS1
American Art
In Key Stage 1, the children have ben looking at an American artist called Mary Cassatt.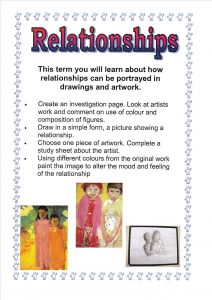 Mary Cassatt was born May 22, 1844, in Allegheny City, Pennsylvania—now part of Pittsburgh. She was an American painter and printmaker. Her paintings often showed women with children in everyday scenes.
Guiseppe Arcimboldo
Giuseppe Arcimboldo was born in Milan, Italy in 1526 or 1527.
His father was an artist.
When he was in his early twenties, Giuseppe Arcimboldo designed stained glass and painted frescoes.
During his life, Giuseppe Arcimboldo produced many works of art on religious subjects, but he is most well known for his portraits of people made up of fruit, vegetables and other objects from nature.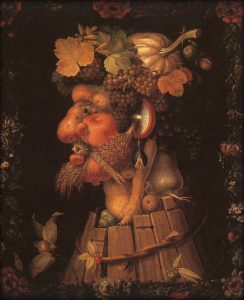 Children completed fact files about the artists and created works inspired by his art.
Arts Award
Their work has been used as part of this year's Arts Award. See the fabulous displays created with the children's artwork.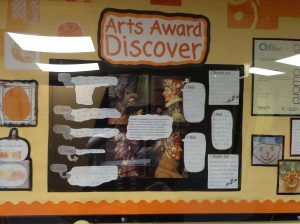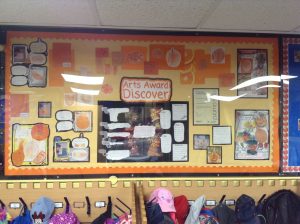 Summer Term Art in KS2
As part of our Arts Award, Years 5 and 6 having been learning about more artists from around the world. Classes 1, 2 and 3 have visited Hatton Gallery to find out about German artist Kurt Schwitters and Irish-American artist Sean Scully.
Kurt Schwitters
The children used one of the exhibitions at the Hatton to find out about this amazing artist.
Kurt Hermann Eduard Karl Julius Schwitters was a German artist who was born in Hanover, Germany. Schwitters worked in several genres and media, including Dadaism, Constructivism, Surrealism, poetry, sound, painting, sculpture, graphic design, typography, and what came to be known as installation art. He is most famous for his collages, called Merz Pictures.
The Merz Barn Wall will takes pride of place at the centre of the Hatton. The Merz Barn Wall is part of a construction created by German artist Kurt Schwitters in a Lake District barn in 1947-8. The Elterwater Merz Barn was based on the idea of collage, in which found items are incorporated into an art work. Schwitters applied a rough layer of decorator's plaster and paint over these found objects, giving the three dimensional collage an abstract quality. Asked what it meant, he replied 'all it is, is form and colour, just form and colour'.
The barn was designed as a permanent structure, somewhere Schwitters could exhibit existing work. When he died in January 1948 it was left unfinished. In 1965, after lengthy discussions about the barn's future, the Wall was given to Newcastle University who undertook its removal, restoration and preservation.
Making their own collage
The children took inspiration from Schwitter's collage technique to create their own designs using various material, colours and textures.
Sean Scully
Sean Scully is renowned globally as the master of Post-Minimalist Abstraction and it was in 1968 when Scully started at Newcastle University that the breakthroughs in his work occurred, laying the foundation for the rest of his career.
Presenting paintings and drawings from 1968-1974, this exhibition demonstrates the remarkable early confidence of Scully's work and the genesis of his continued fascination with stripes, and the spaces in between.
Now in his seventies, Scully has been twice shortlisted for the Turner Prize and his work is in the collection of virtually every major museum around the world.
Sean Scully: 1970 is presented across the Hatton Gallery and the Laing Art Gallery.
Look at what we can do!
The children again used the works of a renowned artist to create their own piece of art. They used a layering technique like Scully. The results were fantastic!