Key Stage 1 Learn about Brazil
Class 7, 8 and 9 looked at the Geography of Brazil. They thought about where it was in the world, major landmarks and famous customs and festivals.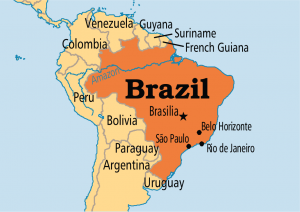 This topic was part of their English and Science lessons on habitats.
The children also spent more time learning about the Amazon Rainforest. They researched the creatures of this habitat, wrote descriptions and drew diagrams.
See examples of their work below:
Key Stage 2 Learn about Brazil
Children in Years 5 and 6 learnt about the geography of Brazil. They also found out the meaning of the colours, words and symbols of the Brazilian flag.
The Year 5/6 children also found out many facts about Brazil including the national language, climate, products from Brazil, festivals and foods.
Brazil Days
Children from both key stages were lucky enough to experience some Brazilian foods (such as frango churrasco – grilled lemon and garlic chicken) and cookery when a guest speaker visited from KeepActive. They also found out about carnivals, designing and making masks/bracelets which Brazilian people may wear during the celebration.
Crafts