School Achieves Healthy School Status
We are pleased to have had our Healthy School Status reaccredited. In order to achieve this standard the school is assessed to have an effective curriculum along the line of four criteria.
Personal, Social and Health Education including sex and relationships and drugs education. It provides young people with knowledge, understanding, skills and attitudes to make informed decisions about their lives.
Healthy Eating includes healthy and nutritious foods being made in school canteens and available in schools as well as enabling young people to make informed decisions about healthy food.
Physical Activity encourages young people to do physical activity as well as being given opportunities to be physically active. It helps understanding on how physical activity can make people healthier and can improve life as well as being part of it.
Emotional Health and Well-being, including bullying, how to express feelings build confidence and emotional strength.
We say a special 'Thank You' to Mrs Kilner, our Healthy School Co-ordinator for supporting us through this process. Our new plaque is displayed proudly in the school's main entrance.
School Achieves Silver Sports Award
We have now achieved the silver School Games Mark standard. This accreditation builds upon our Bronze Mark achieved in 2014.
What is the School Games Mark?
The Sainsbury's School Games Mark is a Government led awards scheme launched in 2012 to reward schools for their commitment to the development of competition across their school and into the community. Schools in England are able to assess themselves across bronze, silver and gold levels of the Mark.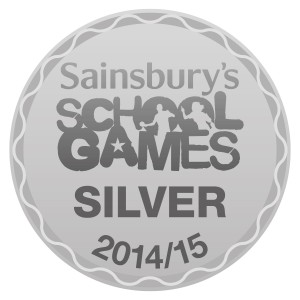 We say a special 'Thank You' to Mrs Wakinshaw, our PE and Sports Co-ordinator, for supporting us through this process. You can now see this logo proudly displayed proudly on our school letterhead.