Meet the Eco Council
The Eco Council is a group of children from Year 2 to Year 6, who volunteer for this position  at the beginning of each academic year. They have been tasked to work alongside the Eco Council Coordinator Miss Tahir, to represent  the views of all children and to improve the way we view our school in the community. We strive to create a sustainable and eco-friendly school, neighbourhood and society.
Have you heard about EcoBricks!!!
Dear Parents/Carers and Children
The Eco council have set a challenge for everyone at Hedworth Lane. We want to contribute to Boldon becoming plastic free. To do this we need your help. We are challenging the whole school to make an eco brick at home. An eco brick is a plastic bottle packed with non-recyclable plastic. These are then used to build.
Once your brick is complete please bring it into school. The eco council are planning an amazing project, working with Williby Rocs, to build something exciting in the environmental garden. If everyone makes at least 1 brick we could save Boldon from 100,000's of pieces of plastic damaging our environment.
To make our build successful please can you make an eco brick using a 2 litre bottle. The build will only be successful if we collect bricks that are the same size. Only bring your eco brick to school when it is finished. Instructions on how to build an eco brick are attached. Don't forget our top tips to help with your build.
Top Tips
Only use a 2 litre bottle
Make sure the plastic you add is not recyclable.
Make sure the plastic is clean and dry.
Cut the plastic into small pieces (this will make it easier to pack the plastic in your eco brick).
Use a wooden spoon to push down and pack the plastic.
Your eco brick is only finished if you can no longer squash it.
To find out more click here.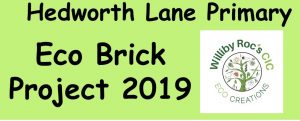 Good luck building your eco bricks. Thank you for your continued support.
Yours sincerely
Eco Council