Hedworth Lane to Host the World Cup!
Footy fans were at fever pitch this week as Hedworth Lane School hosted Boldon's own World Cup event. All children in our Junior classes too part over the course of the day. It was a fantastic day for football and sportsmanship. The winning team was Uruguay in the black bibs, runners up were Iceland in the lime green. 3rd place was Canada in the light blue and China in the dark blue in 4th.
Whole School Sponsored Skip Event!
All pupils have been taking part in a skipping challenge this week as part of a sponsored fundraising event. All pupils got the chance to work with Gail from Skipping School to practise their skipping skills before taking part in an individual challenge.
Gail showed them how to do double bounces, single bounces, side swings and gallops. The children mastered the skills forwards before having a go backwards too! There was even the 'crossover challenge' for Year 6.
All children did amazingly well and enjoyed the sessions thoroughly.
Here are a few highlights from the event:
Class 1
Class 2
Class 4
Class 5
Year 4 and 5 Football Trials
As the new boys' football season approaches, our industrious coaches/scouts -Mr Graham and Aman -are on the lookout for fresh, new talent! This afternoon, they held trials for any Year 4 and 5 students who want to be considered for our future football team. Can anyone spot a promising addition to our team?
Hold the Press- Hedworth Lane have a girls' football team!
This year, we have formed our first girls' football team made up of a squad of our pupils in Years 5 and 6. We used some of the money raised from our penalty shoot out last summer to buy kits for the newly created team – I'm sure you'll agree that they look fantastic!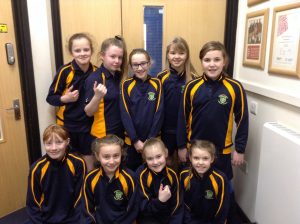 Girls' CVL Football League
The girls' have played fantastically this year so far, managing to get into the Champions' League after the first two rounds of fixtures in November and March – winning 3 and drawing 2 to be second in their group.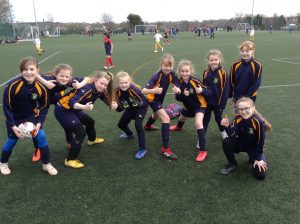 Unfortunately, although they played incredibly well as a team, the high quality teams of this league proved too much for our girls this week and they lost all matches. Hopefully, with some more training sessions in the next few weeks, we can be more successful in the upcoming fixture in April. Good luck girls!
Our amazing team in action
Year 2 Multi-skills
Year 2 really enjoyed taking part I the recent multi-skills festival at Boldon CA
Here are some pics from the event:
Year 5 Multi-Skills
Multi-skilled and multi-talented at Hedworth Lane
We won the tournament ! Well done year 5. Here are some pics of the day's events.
Year 6 Multi-Skills
One of the Year 6 teams was also successful at the recent multi-skills festival. Well done to all!
The Urban Factory
At The Urban Factory they believe that, regardless of age or ability, every child should have access to high quality, fun, safe and inclusive training. They have turned an old manufacturing factory into the North Easts premier training facility for cheerleading, tumbling and freerunning, with competition standard training equipment.
EYFS, Year 3, 4, 5 and 6 were lucky enough to visit tis amazing facility just after Christmas. We used some of the money raised from our penalty shoot out to fund the transport for these trips.The children enjoyed gymnastics, cheerleading and parkour sessions. Great fun was had by all!
Year 3 Benchball Festival
Benchball Battle Royale!
Hedworth Lane Year 3 pupils had a Benchball Battle on their hands at Boldon School. Our two teams played like stars in evenly matched competitions narrowly loosing against tough opposition.
If you would like to see some video footage please click here.
Year 1&2 Dance
Year 1&2 Class 8 have all the moves going on!
Class 8 have been working with dance coach Cheryl, developing their dance skills and composing class routines.
To see the whole dance routine please click here.
Year 5 Dodgeball Festival
Hedworth Lane bring their A game to Boldon School!
We competed against 3 other schools from our local area to come first and second place in the tournament. Team B didn't lose a match throughout the competition and Team A only lost in the game that we played against ourselves! What a great set of dodgers we have here at Hedworth Lane…
Year 1 Tennis Festival 2018
Anyone for Tennis?
Our Year 1 children took part in a Tennis Festival at Boldon School. They had the opportunity to engage in a range of different activities which developed their skills, co-ordination and team work. They were very well supported by Boldon School staff and their school tennis team. The event was a lovely end to weeks of specialist tennis coaching by Stephen Gilbert from Boldon Lawn Tennis Club. The children had a fantastic afternoon and had lots of fun.
Soccer Superstars Autumn Term 2018
The MEN School Football League has now finished after 10 matches. With a strong start with wins against St Joseph's, West Boldon and title contenders East Boldon, a disappointing draw at home to Cleadon and a defeat away to West Boldon meant going into the final game we needed a victory at East Boldon and St Joseph's to secure the title. Unfortunately, it wasn't meant to be as we could only secure 3 points from the 2 games. The team finished second in the league – conceding the fewest goals and scoring the most. The team did the school proud both on and off the pitch!
On November 12th, the Year 6 pupils that make up the majority of our school football team journeyed to Silksworth Sports Complex in Sunderland to take part in a regional inter-school competition. it was an excellent event. We played very well to enable us to finish top of our group and make it through to the semi-finals which ended goalless.
Unfortunately, we went out of the competition on penalties. We went the full tournament unbeaten and conceded zero goals which in itself is outstanding! Player of the match was Bradley, who was wholeheartedly committed and he ran his socks off for the team. This didn't go unnoticed, SAFC produced a letter inviting him to go and train with their development squad. Outstanding!
Year 3 and 4 Football Tournament
The Y3/4 school team entered a football festival at the brand new "Beacon of Light" in Sunderland. Many balls were kicked and many goals scored.  Whilst there were no winners, Mr Graham was extremely happy with the performances and thinks several of the players will make the school team next year!
Year 5 Rugby Tournament 2018
Hedworth Lane took part in this year's Rugby Festival at Boldon School on Thursday 18th October. We entered three Year 5 teams altogether and one of our teams came home with a first place (undefeated) medal each.  It was a lovely sunny afternoon with lots of great examples of sportsmanship seen on and around the pitches. Well done to everyone who took part!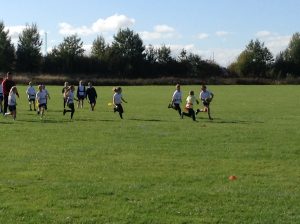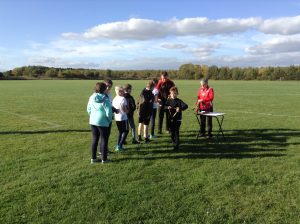 En Garde Class 3!
Upper Key Stage 2 pupils have been learning the discipline of fencing. We use protective clothing and have very strict rules about what we can and cannot do. It is clear that we can certainly learn a new skill and have great fun! "En garde. Prêt. Allez!'
Year 6 Football Festival September 2018
Students from our Year 6 took part in a thrilling football tournament today.
Well done to all who took part, especially to our Hedworthlane team who, alongside East Boldon B, won each section and received medals.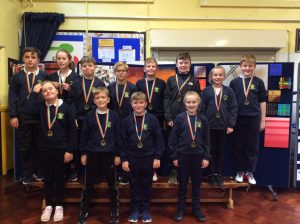 School Team Success – It's Coming Home!!
Our school team ended the 2017-2018 season undefeated champions of our league and go down in history as one of the great Hedworth Lane School football teams Ha'way the lads!
The World Cup? Try the Year 2 Cup!
Once every couple of years, football teams gather for the World's most prestigious trophy – not the World Cup but the Y2 football festival!
Under the sweltering sun all the Year 2 all-stars competed in mini-leagues with the winner progressing to the finals. Luckily, Mr Graham's team scooped the trophy after an enthralling penalty shootout winning all their matches along the way; scoring boatloads of goals and having a great team spirit. Well done Year 2!
Year 2 Multi-Skills
Year 2 enjoyed a sporty trip to Boldon CA for a multi-skills festival. Over 18 different stations – from hockey to basketball, from jumping to sprints, meant the children were active for nearly 2 hours. Whilst none of the teams came away as winners, they all came away with a certificate and big smiles on their faces.
Year 3 Rugby
This week Class 6 proudly represented our school at a Year 3 rugby tournament hosted by Boldon School.  The children thoroughly enjoyed putting their new skills into practice and had a fantastic afternoon playing in the sunshine! All children had a great team spirit and learnt a lot about the rules of tag rugby. Well done everybody! Super effort!
Key Stage 2 Indoor Athletics Celebration
Key Stage 1 Indoor Tennis Festival
"There was quite a 'racquet' at Boldon School this week when 41 Y1 children visited to practise their tennis skills. Following 6 weeks of coaching from Boldon Tennis Club the children in Mrs Ross' and Mr Graham's class enjoyed a festival of tennis fun. Everyone had a great time and came away with certificates and medals."