The Choir at Christmas, despite the Coronavirus Pandemic
Merry Christmas from Hedworth Lane Choir! The choir has enjoyed getting together to sing their favourite Christmas songs, despite the lack of performance opportunities this year – they really are true professionals!
The children chose two of their favourite songs to record for you to enjoy at home – 'Rockin Around the Christmas Tree' and 'Midnight', featuring our resident soloist, Matthew.
We know that Christmas will look very different for many of us this year but we hope these little videos will bring you some Christmas cheer! I'd like to send special thanks to our fabulous pianist, Andrew Richardson, who has provided much needed support during staff shortages and kept the choir singing every week.
I'd also like to take this opportunity to wish you all a wonderful festive season and a less eventful 2021! Miss Jago
Click on picture 1 for "Midnight"
Click on picture 2 for "Rockin' Around the Christmas Tree!"
Click on picture 3 for "We Wish You a Merry Christmas!"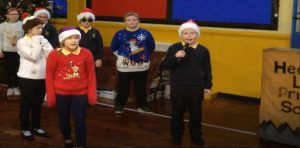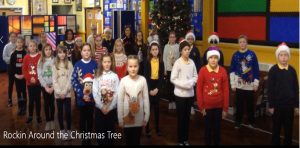 Music Outreach Celebration
Our School Choir visited Durham Cathedral along with 7 other schools and performed with the choristers of Durham. The singing was wonderful and the song choices, including traditional folk songs and modern classics. We each had our favourite! 
The cathedral was magnificent and we all agreed that singing at Durham Cathedral made the event extra special.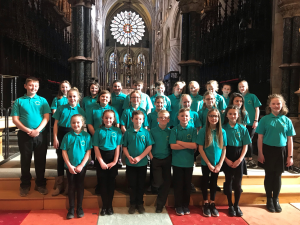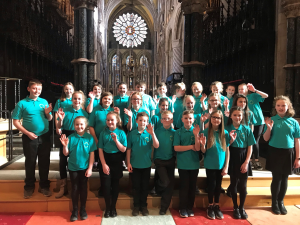 Durham Cathedral Choir's Together Event
Choir members from Year 5 travelled to Durham Cathedral to take part in the Music Outreach Celebration in conjunction with the Durham Chorister School.
They performed alongside 9 other South Tyneside schools, singing a range of music from traditional folk music such as 'Scarborough Fair' to pieces in Latin such as 'Panis Angelicus' They were accompanied by the Choristers from Durham Cathedral which made the whole experience even more special. The Choir represented our school brilliantly and thoroughly enjoyed their day. Thanks to all parents who made the journey to Durham to support the Choir.
(Photographs reproduced by kind permission of the Chapter of Durham Cathedral.)
To enjoy our Choir Performance rehearsal at Durham Cathedral click
here.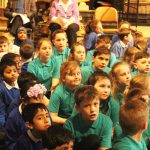 Community Event at West Boldon
Children from Hedworth Lane Primary School Choir were delighted to be invited to sing at the Band on the Green event in West Boldon on Sunday. They performed a variety of songs from famous musicals such as 'Lets Go Fly a Kite' from Mary Poppins and 'Consider Yourself' from Oliver. Singing in the sunshine was a pleasure and the Choir hope to be back to perform at this event in the future.
Community Performance at Boldon School
December is a busy time for Choir and one of our favourite events is singing for guests at the Pensioner's Christmas Party at Boldon School. We have performed at this event for the last few years, singing a variety of Christmas classics such as Winter Wonderland and Merry Christmas Everyone. The choir are always made to feel so welcome and it is great to serve the community in this way.
Please see our video recording of our choir performing 'Walking in a Winter Wonderland' here.
Performing at the Viking Centre
Another community event that the Choir look forward to is singing in front of the Christmas tree at the Viking Centre. This event is funded by the LEA and allows local schools to perform at various points around the borough. Lots of parents and shoppers stop to listen to our performance and it is always great to hear people sing along! The Choir always enjoy singing outside especially when the weather is kind to us like it was this year!