Our 'Nature Explorers' craft sessions aim to improve well being of our children through unique interactions with the natural world around us. Children will benefit from regular and valuable outdoor experiences where they will connect with nature through sensory and seasonal exploration. The sessions are led by Danielle and Kaye from Williby Roc's.
Follow our journey here…
Den Building
Olive the owl needed a new place to live. The children were tasked with building a den for Olive out of materials that they could find in the garden.  We were blown away by some of the dens created, lots of attention to detail and very different ways of building.  The den had to be big enough for Olive to fit in and they all passed the test.  We also spoke about plants need to survive and the children made seed bombs with is clay, wildflower seeds and compost.  They had great fun having a competition to see who could throw the seed bombs with the most accuracy.
Funny Faces
This week the children used natural materials to thread and weave, using leaves, dried fruit and pine cones to create beautiful nature mobiles to decorate the new forest walkway.
We also made funny face portraits out of clay that were moulded onto the trees.  We looked for natural materials from the garden to use for the funny face features. Some amazing masterpieces were presented and very creative ways of using the natural materials.
Planting
We worked together to plant our own seeds today… we can't wait to watch them grow.
Windy Weather
Windy weather calls for kite flying! We had lot's of fun making our own kites and having a competition to see who could fly their kite the highest.
Journey Sticks
This week the children made names badges using natural materials before being introduced to the journey stick. Children listened to a story in the garden about the journeys of Native Americans before adventuring around the garden to collect natural materials to add to their own journey stick. They look fantastic !
Woodland Self Portraits
This afternoon, children collected natural materials from our garden to construct their very own woodland self portraits for the beginning of their learning journals.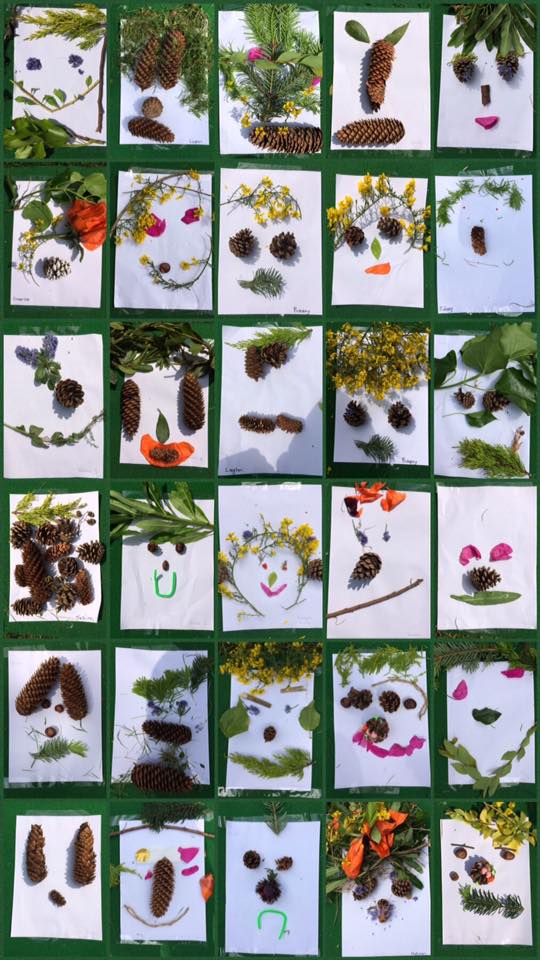 Meet our Green Men…
Today the children used natural materials from our garden to create their own green characters before having some fun kite flying!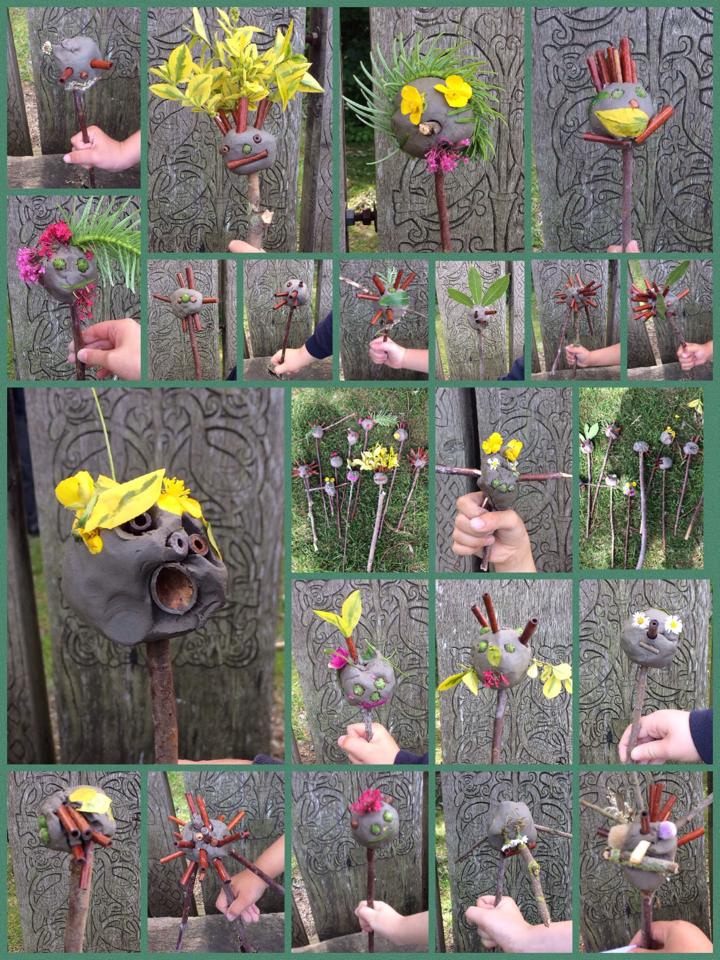 Paint, Paint and more Paint !
The children made paintbrushes out of sticks and leaves. Harvey told the group, "It's like inventing things."
The children were introduced to the natural paints and had a guess what had been used to make them. Matthew thought the green paint was made from limes. Some other popular guesses were peas and avocado. It was actually made from….PEAS!
After smelling and identifying them all, the children started to paint on the huge white sheets with their natural paint and brushes. "This is awesome!" shouted Ollie.
Ellie was enthused about the session overall and said, "It's really interesting doing different things."
What a wonderful session for our nature explorers to take part in. Lots of learning and exploring going on to keep our inquisitive young minds busy and active !