Gerald the Global Giraffe meets the children of Hedworth Lane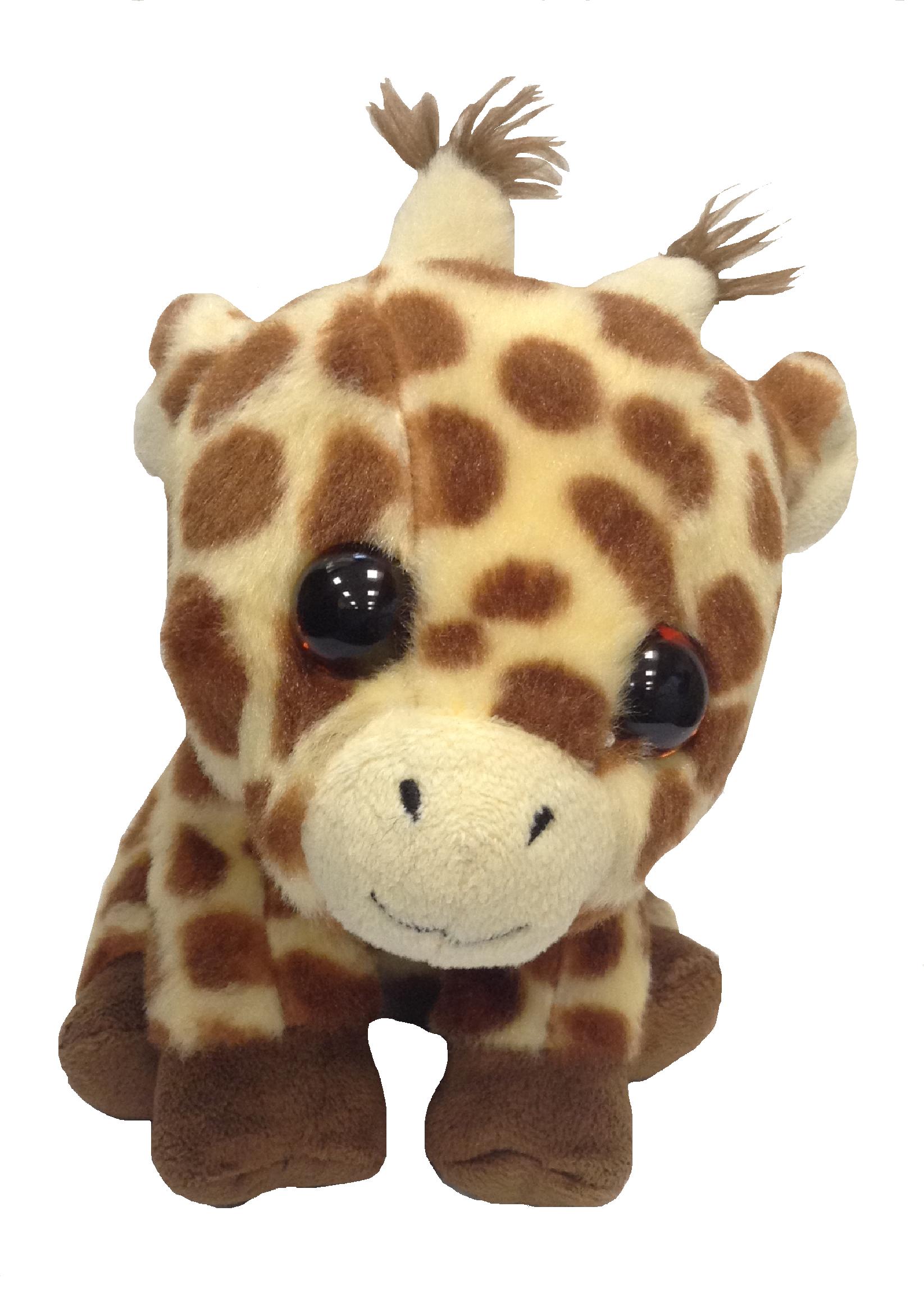 Earlier this term William and Joseph won our competition to name our international mascot. Well done boys for the fantastic name of…Gerald!
Gerald has had a great time travelling around this summer with Mrs Simpson and Mr Graham. He also really enjoyed his half term with Mr Gill.
Now, our new global giraffe is ready for more adventures with the children and staff of Hedworth Lane.
To find out more about Gerald click here.
Next week, one child from the best attending class will get the opportunity to learn, along with our new mascot, about another culture. If you are that lucky person, fill in one page of the World Journal.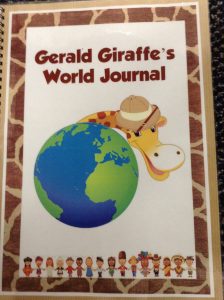 This can then be shared with the rest of the school. Enjoy your discoveries!
Gerald Flies to Paris with Mr Gill.
In the October holiday Mr Gill and Gerald headed off to Paris from Newcastle Airport, stopping briefly in Amsterdam airport to change airplanes and meet Miffy!
We visited the Louvre Museum and Art Gallery and see the Venus de Milo statue, paintings by Giuseppe Arcimboldo of people made of fruit and of course, The Mona Lisa. She was very popular!
We visited the famous churches of the Sacre-Coeur and Notre Dame, took a boat tour along the River Seine and saw 'La tour Eiffel' before we came home. 'Magnifique!'
In Indonesia and Malaysia with Gerald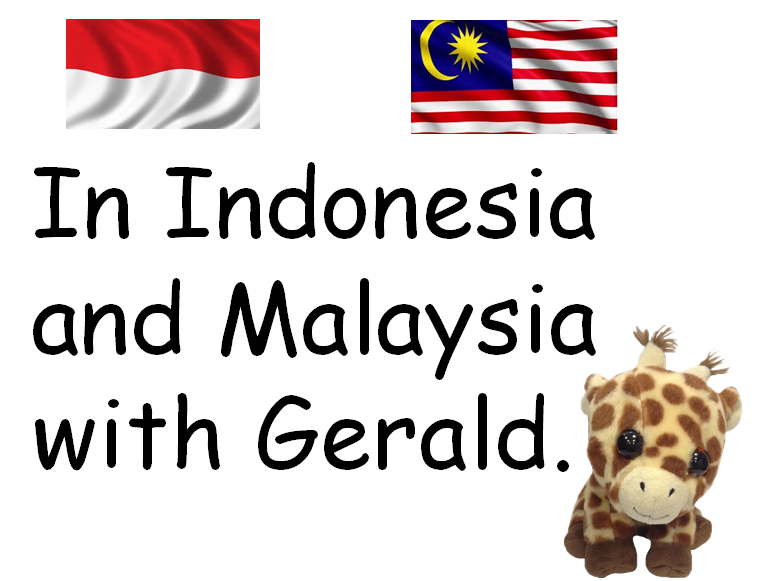 To find out more click here.
Gerald's first outing with Class 4
Last week, Mia in Class 4 was lucky enough to take Gerald home for the weekend.
Mia visited an Italian restaurant and wrote all about the origins of margarita pizzas! Mr Gill shared what she had found out with the rest of the school on Monday. Well done Mia, a great first entry into our new global journal. I wonder what he will find out about next.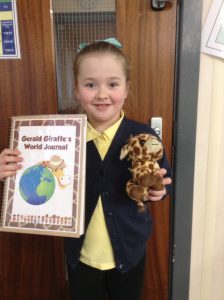 Gerald joins Class 1
Last week, Alfie from Class 1 took Gerald to Scotland for the weekend. Alfie found out about the Scottish flag and the famous town of Gretna Green.

A weekend with Class 5
Gerald spent the weekend with Josie in Miss Jago's class this week. He was lucky enough to find out about The Centre for Life in Newcastle. With Josie, he went on the 4D Polar Express motion ride and had a go at a few scientific experiments. Gerald also found out about the time of the dinosaurs – cool!

Gerald's next adventure with Class 3
Cerys, from Mrs Wakinshaw's class, took Gerald to see Fenwick's window in Newcastle this weekend. The theme this year is Paddington Bear. So, Cerys decided to find out about Peru (where Paddington is from.) One of the facts she and Gerald found out was that Spanish is the main language of Peru – great stuff!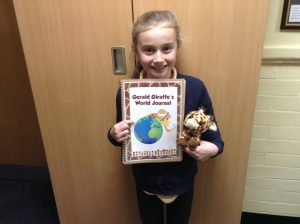 Class 6 hosts Gerald
Our Global Giraffe joined Charlotte this week. He found out about some local geography in Jarrow. Charlotte told Gerald about the Jarrow March. In October 1936, many poor and unemployed men and women from Jarrow marched to London to take a petition to the government. They were asking for help for our region to create more jobs. Excellent work Charlotte!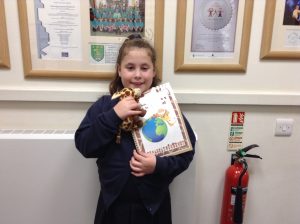 Back with Class 5
Gerald joined Anna this weekend for a scuba diving lesson! Along with Anna's brother, Thomas, Gerald learnt lots about this interesting sport. Did you know that the most popular place to scuba dive is Australia? In this part of the world, divers can see many fascinating creatures including sea snakes, turtles and even sharks….eeeek! Gerald had a fantastic time.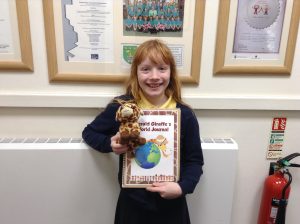 Christmas Adventures in Madrid, Spain. Hola Gerald!
Gerald flew to Madrid with the Mrs. Davison and her family. They visited the Bernabeu Stadium, sat in the dug out, had a close look at the pitch and even went into the dressing room.
Gerald also had a drink and ate tapas in the 'San Miguel' market and visited the Temple of Debod.
Gerald meets a member of Class1
Our Global Giraffe joined Jasmine last weekend as she shopped in Sunderland. Jasmine found a Gerald look-a-like in one of the shops and this inspired her to find out a bit more about giraffes and where they come from. Mr Gill showed the rest of the children in Monday's assembly what Jasmine had found out.

Another adventure with Class 3
Gerald went the theatre to watch a pantomime this week with Reece Frater. The panto was called Aladdin. Reece found out that the story was set in China.  Reece drew a fantastic picture of the Chinese flag (see below)
He then researched other interesting facts about this country. Well done Reece. This will come in very handy for our International Day for China on February 22cnd!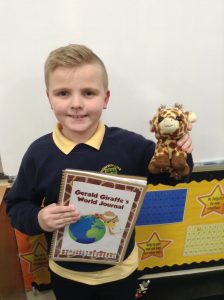 Gerald returns to Class 5
Gerald joined Layton at the cinema this weekend to see the film Jumanji. Layton found out that the film was shot in Hawaii. He found out lots of fascinating facts about this island. For example, the waterfall scene in the movie was filmed at Kawainui Falls. Gerald had a great time as it reminded him of his home in the jungle. Great research Layton!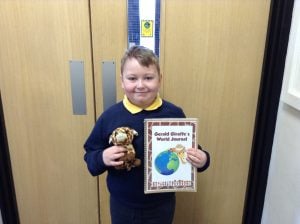 Lucky Class 5!
Gerald stayed in Class 5  for another outing with Lucy. She had a very eventful weekend, which included a trip to an Italian restaurant. He enjoyed sampling some Italian foods like penne bolognaise and parmesan cheese. Mmmm sounds delicious!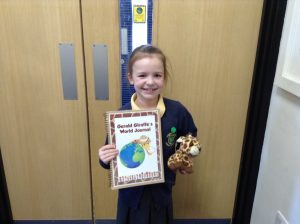 Half Term with Class 3
Gerald joined Megan in class 3 for February Half Term. Megan visited Germany to take part in a gymnastics competition. Whilst there, she found out about the food of Germany and sampled a few dishes: sauerkraut, German sausages and Roladin ( a German food that is made from beef, bacon, mustard, and onion)
Megan also saw the German flag – see below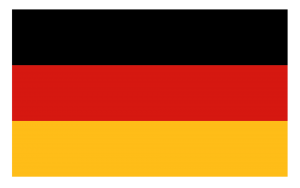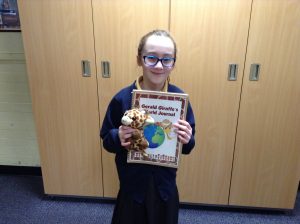 An Outing in Class 1
Gerald accompanied Emily on her horse-riding lesson.  Emily found out that horse-riding originated in the USA.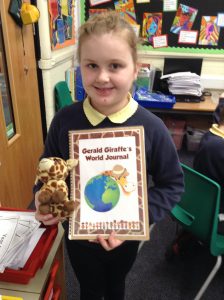 Meet Geraldine!
After the success of Gerald in KS2, we have enlisted the help of a second giraffe, Geraldine, to accompany KS1 children each weekend.
Geraldine's First Outing with Class 8
Isla from class 8 was the first infant to take Gerald's sister, Geraldine on an adventure. Isla was celebrating a birthday that weekend and Geraldine went to the party with her. Isla investigated what happens at different birthday parties around the world. She found out the traditions in China, Jamaica and Ireland. Read her entry in Geraldine's book to find out about the traditions including noodles, flour and bumps!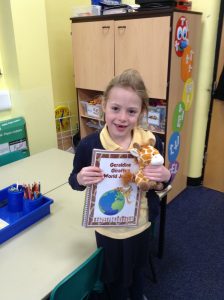 In Iceland with Gerald
Mr Graham went on more adventures with Gerald at half term, which he shared with the children during a whole school assembly. Read about his travels below.
To find out more click here.
Another Outing with Class 5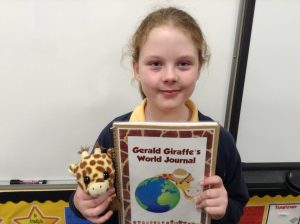 This week Gerald got to visit Millie's house where he was treated to a delicious Indian meal. He tasted Vindaloo and pilau rice. Millie and Gerald found out that ink and rulers were invented in India.
Joining Year 6 in Class 1
Gerald helped Lewis pick some tropical fish this week. He bought two Angel fish which he named Shadow and Casper. The temperature of the water needed to be 27-29 degrees Celsius.

A Weekend with Class 8
Mason took Geraldine to football training. He found out his coach was from Angola but now plays in England for Middlesbrough. With Geraldine, he found out lots about Angola including its flag, resources and parks. He also found out Angola is in Africa – just like giraffes!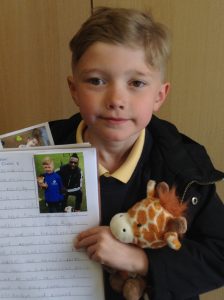 Easter Break for Gerald and Geraldine
Geraldine spent the holidays with Charlotte in EYFS. Evan McKenzie in Class 3 looked after Gerald during Easter. They had an exciting time in Amsterdam. Whilst on their trip, Evan learnt all about the canals there. Did you know that the length of the canals in total is 31 miles! WOW!
Spending some time with Class 6
Last week, Gerald spent the weekend with Harry from class 6. Harry and Gerald travelled on the metro to Newcastle airport. Harry found out that there are 60 metro stations altogether. Once at the airport, Harry and Gerald met a lady who works for Emirates airline and they watched a plane take off to Spain together.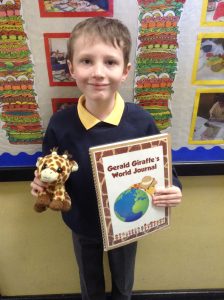 Wonderful, Wonderful Copenhagen
During the Easter holidays Gerald visited the capital city of Denmark, Copenhagen with Miss Jago. Denmark is in Northern Europe, just over 1000 miles from Newcastle and is the smallest of the Scandinavian countries.
Copenhagen is the most visited of all Scandinavian cities and Gerald got to visit lots of the popular tourist attractions including The Round Tower, which houses the oldest functioning observatory in Europe, and the royal palace of Rosenborg Castle where he saw the crown jewels. Gerald visited a statue of the famous Danish writer, Hans Christian Andersen who wrote famous fairytales such as The Ugly Duckling and The Little Mermaid.
Gerald got to cross the famous Oresund Bridge to  visit Malmo in Sweden, visiting the King's Park and the city library.   
Geraldine Returns to Class 8
Emily-Mia took Geraldine to the local climbing wall. She then looked at mountains to climb around the world with Geraldine. She learnt about Mount Kilimanjaro in Tanzania – a place where you can find giraffes!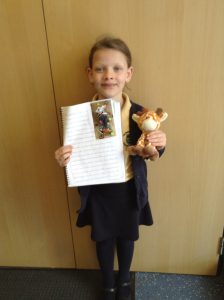 Gerald is back with Class 3!
Shelby and Gerald spent the weekend with her family.  She was very excited because her dad was home.  The went to the beach and made sandcastles and looked in rock pools for star fish and crabs, looking at the habitats of different creatures.  After that, they had lunch and an ice cream.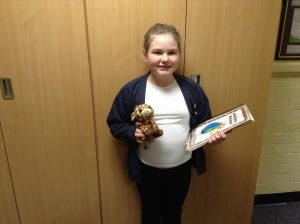 Geraldine joins class 8
Oliver, from class 8 took Geraldine to his swimming class. Geraldine found out that Oliver is a fantastic swimmer. They then learnt about where swimming is popular and which countries and people have won the most Olympic medals (it's the USA!)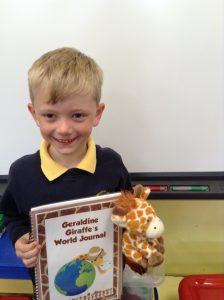 Gerald enjoys a bit of time in Class 5
Benjamin took Gerald to see Matilda at the theatre. He found out that the author of the book 'Matilda' was Norwegian. He then went on to find out some interesting facts about Norway including:
The countries of Norway, Denmark and Sweden make up the area known as Scandinavia.
Excellent work, Benjamin!

Class 7 host Geraldine
Kate took Geraldine on an exciting trip to Wylam.  Geraldine camped out in the woods overnight with Kate's family and found out some fascinating facts about George Stephenson.

Great attendance Class 6!
This week Gerald went home with Abbie from Class 6. To start the weekend, he went ice skating with Abbie and her family. Did you know ice skating first started in Finland more than 4000 years ago? On Saturday, Gerald enjoyed watching the Royal wedding of Prince Harry and Meghan Markle (who's American) and learnt lots of cool facts about the Royal family.
Half term for Gerald and Geraldine
The giraffes spent their holiday with Gabriel in EYFS and Aaron in class 1.
Gabriel took Geraldine to Windermere. They went on a boat together and had turns at driving the boat. Gabriel discovered that Windermere is 11 miles long and 1 mile wide and has lots of boats like steamers, motor boats and rowing boats.
Aaron took Gerald to Flamingo Land in North Yorkshire. He had a great time on all of the rides.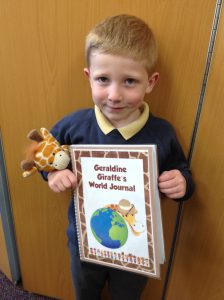 Gerald also visits LEGOLAND
Gerald went to LEGOLAND with Mrs Simpson and her family  this half term. LEGOLAND is in Windsor, which is where Prince Harry and Meghan Markle, recently got married. He had a great time on all of the rides. He found out lots about other places in the world when he went to the Miniland exhibition.
Another Outing in Class 5
Gerald accompanied Grace to a wedding this weekend, celebrating the marriage of her Auntie Linzi and Uncle Daniel. The couple originally got married on the Greek island of Zante where Grace was bridesmaid. Grace found out 4 fascinating facts about Zante including the island being the third largest island in the Ionian Sea. Gerald had a wonderful time!