Class 6 host a German bear!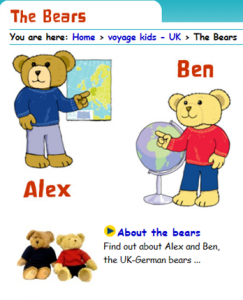 Today was a very special day for Class 6 because it was the start of the UK-German bears project. Our special visitor, Alex the bear, arrived from Germany and will be staying with them for three weeks. The children decorated the classroom and made welcome signs which read 'Guten Tag' and 'Hallo' to help Alex feel at home. The children are very excited to learn about Alex and his adventures.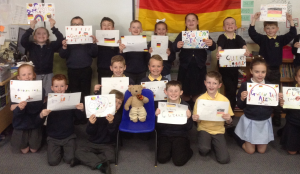 All about Alex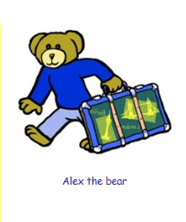 Hi, I'm Alex the bear from Berlin. Find out how I met my friend Ben, and what I'm doing in the UK!
It was a warm summer's day. I was on holiday in Portugal, when I met a friendly bear on the beach.
"Who are you? Where do you come from?", I asked him.
"I'm Ben, and I come from London", he said, and told me lots of interesting stories about his home country.
It sounded like such a great place, with so many nice children, that I decided to come and see for myself!
I'm currently travelling around schools in the UK, whilst my friend Ben visits schools in Germany. Together, we teach children lots of fun things about our home countries, and help them learn and play together, too!
Blogging about the Bear
Over the course of the visit, Miss Roberts will be blogging on a special bear exchange website.
Click below for a link to the blog website to catch the latest posts from Alex (our German bear) and Ben (the British bear visiting our link German school)
Bear Project Blogging site here.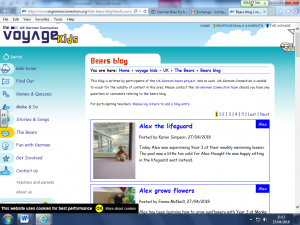 Questions for Alex
The boys and girls were very curious about Alex, and had lots of questions for him when he first arrived. They were very intrigued about his country, his school and how old he was. They were blown away this morning when they walked into the classroom to find a special delivery. Alex has been very busy overnight replying to everybody's fantastic questions.
Alex's Song
Once the children heard Alex's story about his adventures they were introduced to his song. They thoroughly enjoyed rehearsing and performing the song as a class and became familiar with some of the repetitive phrases such as 'Ich bin' and 'Ich wohne'.
Exploring the Curriculum 
During Alex's visit, the children were eager to involve Alex in all lessons including taking him to the local swimming pool for their weekly lessons and teaching him how to play different chords on the ukulele during their music lessons.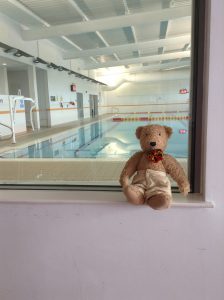 Partner School
The class took photos of different areas of the school such as: the building, playground, hall and classroom and sent them via email to their new partner school in Germany. Our partner school did the same and we enjoyed sharing the photos whilst researching school life in Germany and comparing it to our school life. Many children were intrigued as to why the children didn't have to wear school uniform and they were very jealous!
Meine Familie
Today the children in Class 6 received their first German lesson and Alex was on hand to help them. They learnt how to speak about their family members in German. The children were familiar with certain names such as 'mama' and 'papa' and were quick to quick to learn 'opa' and 'oma'
All about Germany
Today we were researching facts about Germany and the capital city Berlin. Firstly, we located Germany on a map and named the 9 European countries that bordered the country. We then looked at the 3 colours of the German flag and what each colour represents before having ago drawing and colouring our own flags.
The children made fact files using information we had shared as a class
Penpals
To enhance our bear exchange experience we decided that we wanted to contact the children that lived in Germany and were taking care of Alex's friend, Ben. Each child wrote a letter including a bit of information about themselves and then plenty of questions about Germany, the school and what type of games the children there liked to play. The children can't wait for their responses!