As part of our plan to gain our Full International Award, we have established links with several countries abroad. One link has been created with a school in Macedonia.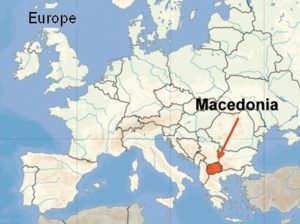 Mascots
Each school has chosen a global mascot to represent their school. Here is the Macedonian mascot Kocho!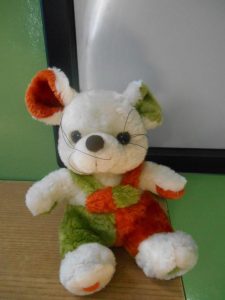 Hedworth Lane chose a toy too. Here is Churchill!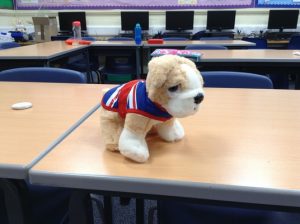 So far, we have exchanged information about foods that we eat. Our children wrote about some of their favourite British foods: fish and chips, roast dinner and full English breakfast!
In Macedonia, they store food for the winter. They preserve food like peppers and chillies. People make "zimnitza"- vegetables (peppers, tomatoes) which are cooked in big pots and the food is conserved in jars for consumption in winter when there aren`t any vegetables like those. They also make "kompot" (fruit drinks) which is also to be consumed in winter when there aren`t any fresh peaches, sour cherries, strawberries, plums, etc.
I showed them some pictures of our children eating lunch. I explained that in England we eat food from all over the world. I asked Kristina (our link teacher) if they ate food from other cultures. She explained that they do eat international food, like pizza, burgers, pasta but they don`t have Chinese, Vietnamese, Thai or sea food in restaurants in other cities or towns except for Skopje, the capital. So, in small towns like Kratovo where their school is, they  don`t get to eat food like Chinese, Thai and the like.
We also asked Kristina if they celebrated Halloween in Macedonia. Unfortunately, they don't. I showed her some of the photos from our recent Halloween discos. I can't imagine their surprise when they saw them!
For the rest of the term, we are going to exchange information about Christmas in our home countries. The children of Hedworth Lane can't wait to find out more about our link school and their Christmas traditions.
Christmas in Macedonia
Our link school in Macedonia sent us some information about the festive season.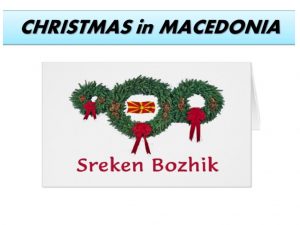 To find out more about Christmas in Macedonia click here.
We shared a powerpoint on our British Council ETwinning TwinSpace explaining some British Christmas traditions including Christmas Jumper Day and turkey and cranberry sauce!
Christmas Cards
In Macedonia, they celebrate Christmas in January. When we came back to school in January, we received Christmas cards with a traditional Macedonian Greeting on the front…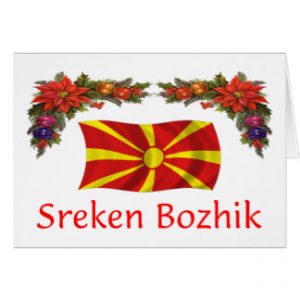 Links with Spain and France
This half term, class 1 have also been completing projects with several new link schools in other countries.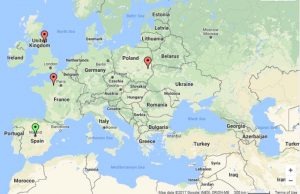 We have been taking part in a project called 'Famous People.' The idea of the activity was to create information pages about famous people from our own countries.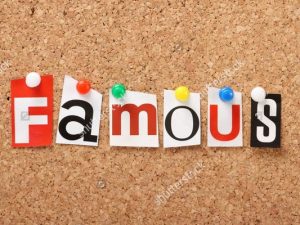 My class have been working hard to create power-points based on a variety of famous British people including Adele, Mo Farah, Gordon Ramsey, Gareth Bale and J. K. Rowling. The children completed research to find out basic information about their chosen famous person. We then translated some of the information into French for one of our host schools- Ecole Victor Hugo (L'Aigle)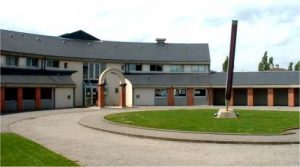 Examples of Our Children's Work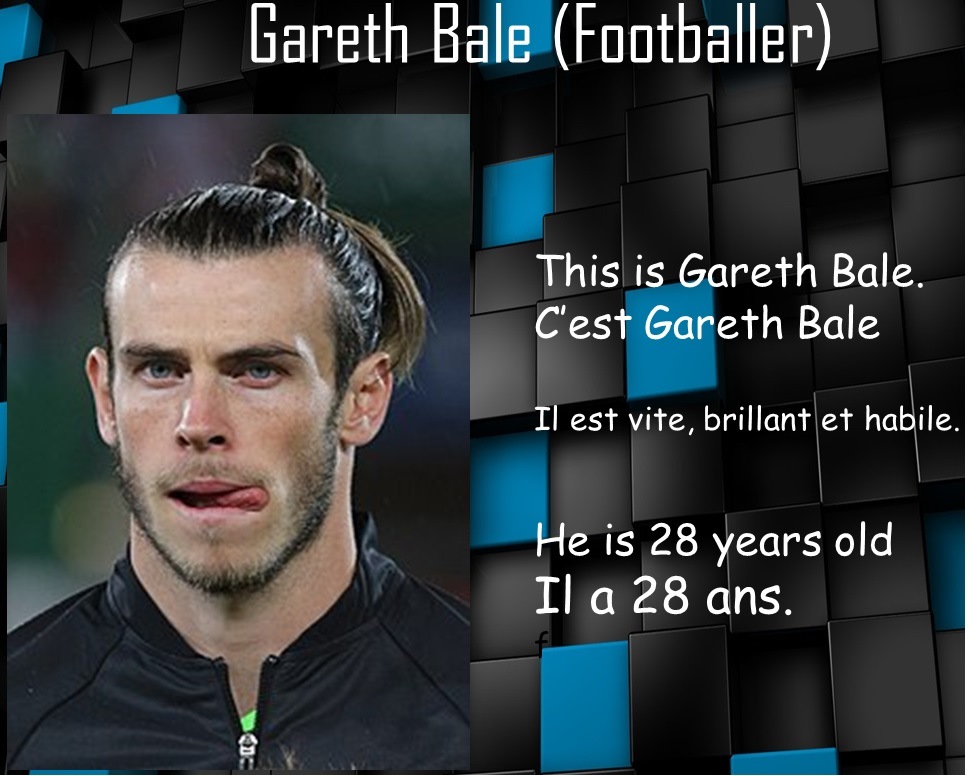 To find out more about Gareth Bale click here.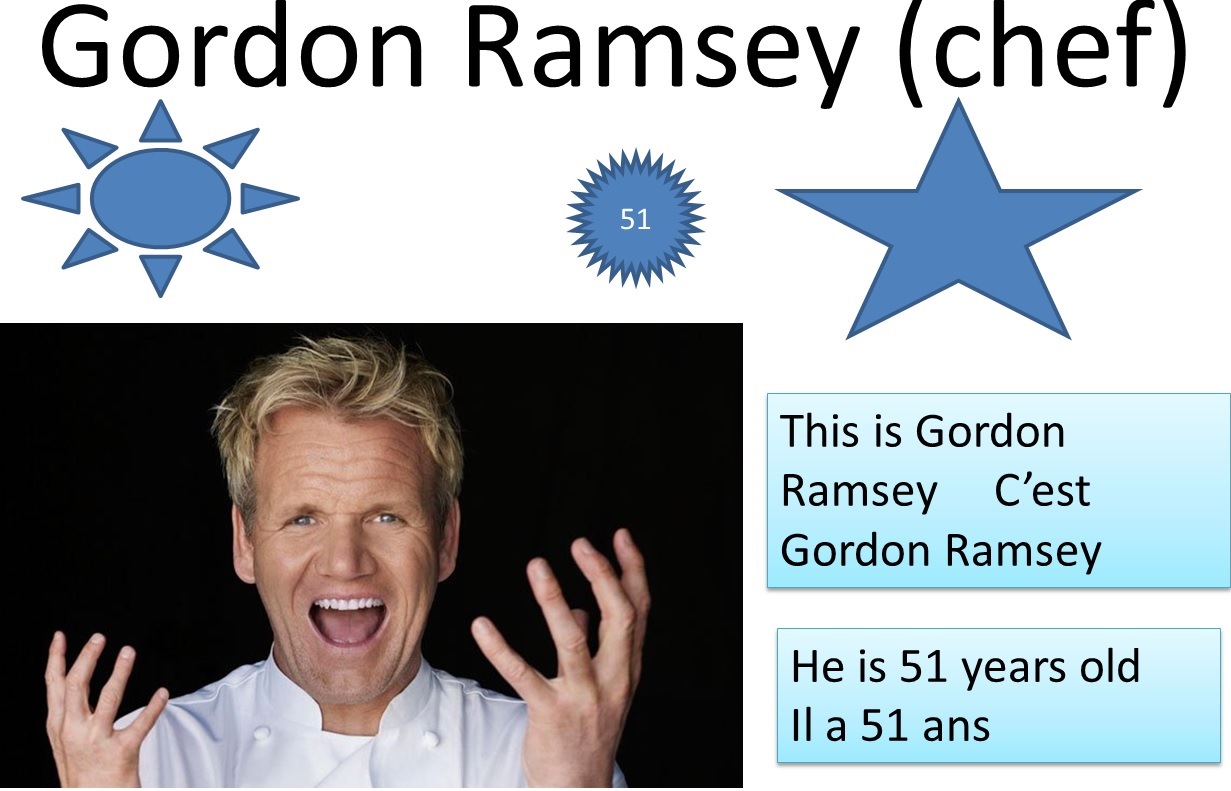 To find out more about Gordon Ramsey click here.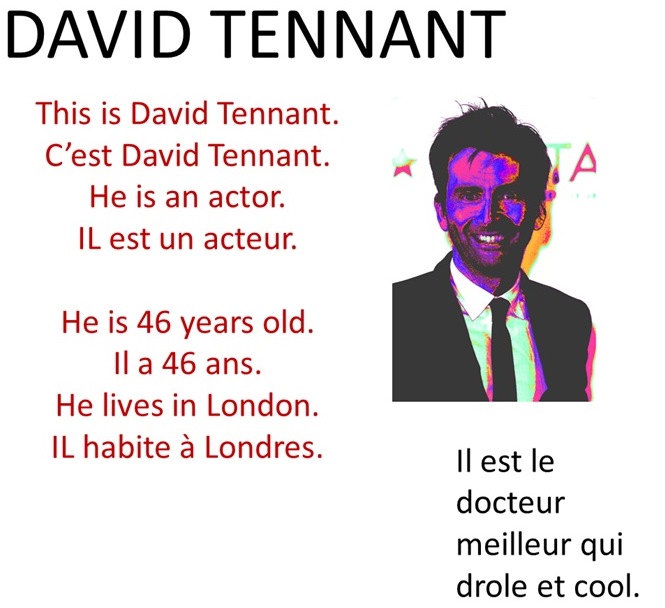 To find out more about David Tennant click here.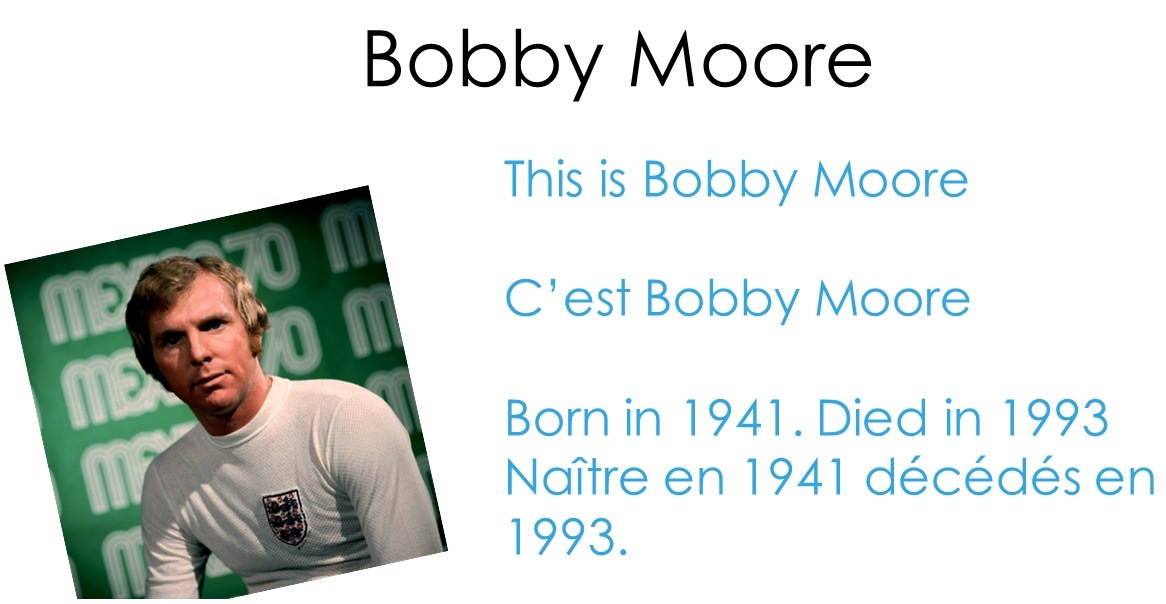 To find out more about Bobby Moore click here.
Our other link school in the project is in Madrid in Spain – IES Joaquín Rodrigo (Madrid)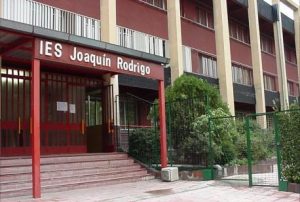 The children from our Spanish link school sent us information about a range of people of interest including Thomas Edison, Margarita Salas, Severo Ochoa, Alfred Russel Wallace, Santiago Ramon Y Cajal and Albert Einstein.
Examples of work from our Polish and French link schools
Spring Term Link
One of our Canadian link schools asked us to help them with a recycling project. They wanted to find out what our school's recycling habits were so that they could compare them to their own school.
We were asked to find out the answers to several questions:
1.   When does your garbage truck come (how often)?
2.  Do students take bannana peels, apple cores, orange peels, etc.  home to a green bin? 
3.  Does your custodian help you with your recycling program?
4.  Do you throw paper towels in the garbage or do you recycle them? (green bin)
5.  Do your washrooms have paper towels, dryers or cloths?
6.  Do you have a green bin in your classroom?
7.  Is your school considered a "Green School?" 
8.  Do you have a blue bin for paper in your classroom?
9.  Do you have a G.O.O.S. (good on one side) paper in your classroom?
10.  Do you recycle plastic?
Summer Term Project – Famous Landmarks
Each partner school researched several local/national landmarks of interest. For example, Hedworth Lane School chose The Angel of the North, The Sage in Gateshead, Malham Cove, Penshaw Monument and Alnwick Castle as places of interest in the North East of England. The children researched their chosen landmark then produced a poster about it.
Here are some examples of their work:
These posters have been shared with our partner schools in Macedonia, France and Spain.