Celebrations!… Chinese New Year.
On the 1st of February it was Chinese New Year and the children at Hedworth Lane have thoroughly enjoyed celebrating and participating in Chinese traditions over the last couple of weeks. Individual classes have been completing lots of different Chinese New Year activities such as dragon mask-making, cooking vegetable stir-fry and we even had our KS1 classes learning a traditional Chinese dragon dance to perform to the school! The children have loved taking part in these activities and have had lots of fun embracing Chinese New Year 2022…. The Year of the Tiger!
Anti-bullying Week 2020
Anti-bullying themed activities and assemblies have been taking place across school spreading the important anti-bullying message. Activities were themed around being 'United Against Bullying' and 'Top Tips to being a Perfect Friend'.
Hedworth Lane are proud registered supporters of the Anti-bullying Alliance and Anti-bullying Week 2020.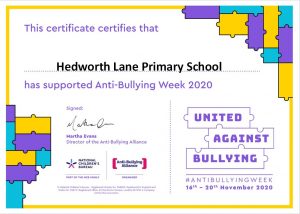 Parliament Week 2020
Parliament themed activities took place across school during Parliament Week. It was a fantastic introduction to UK Parliament and democracy. We built on our prior learning and previous engagement in Parliament Weeks.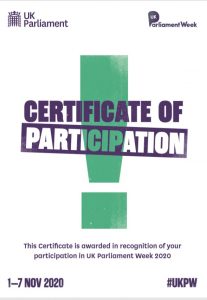 Self-Care Week
As part of Self-care week 2019 the children took part in a whole school assembly covering topics around self-care. They looked at what this means, the importance of self-care and hints and tips on easy ways to incorporate self-care into their everyday lives. Other topics covered included minor ailments such as, coughs and colds, being resilient e.g. coming to school when in recovery from an illness, the 'catch it bin it kill it' message, healthy lifestyle choices e.g. exercise, fluids, vitamin rich foods and ways to stay mentally active.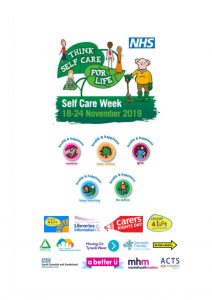 Mental Health Day
As part of Mental Health Day we took part in a whole school assembly exploring the very important life skill of resilience. Take a look at the presentation click here.
This song is a great reminder of what resilience means and how we can demonstrate resilience in our everyday lives. To see the Resilience Song – Bounce Back please click here.
NSPCC Speak Out, Stay Safe
Two lovely ladies from the NSPCC came into school to deliver an assembly for Reception and Key Stage One then another for Key Stage Two on the very important topic of keeping safe. They talked about the rights children have, including the need to be well looked after and cared for and what this looks like. They showed animated video clips of children who were experiencing a range of neglect and ill-treatment in order to educate the children on what 'is not ok'. The children met the NSPCC mascot 'Buddy the Speech Bubble' and learnt his phrase 'Buddy says that is not ok'. The children were taught about how to get help, what a 'trusted adult' is and who they might be and where to get help if they need it. They also learnt and now know by heart, the telephone number for Childline. These were fun and informative sessions highlighting the key message of 'staying safe' and 'speaking out'. These assemblies were followed up by in-class workshops for our older children.
Mental Health Awareness Week
As part of our work during Mental Health Awareness Week we used the popular song 'This Is Me' from the well known movie 'The Greatest Showman', as a stimulus to talk about feelings, emotions and mental health and well being. We quickly realised that everyone, including famous faces, can get worried and anxious when facing new challenges. We used the following clip as a stimulus for discussion, naming feelings and emotions and identifying times in our own lives when we have felt like this. We then thought about what it means to keep our minds, feelings and emotions 'healthy', ways in which we can do this and why this is just as important as keeping our bodies fit and strong. We then thought about our own unique qualities and created some fantastic pieces of work celebrating just how special we are!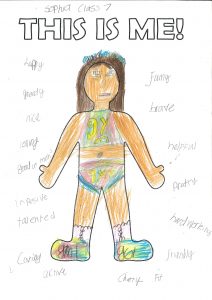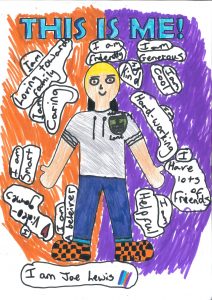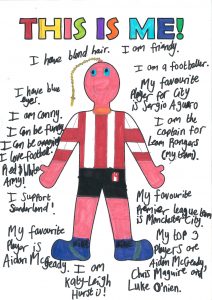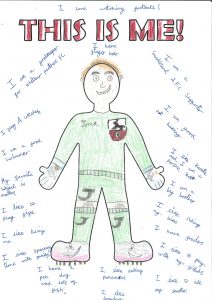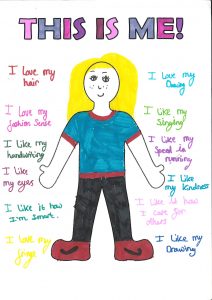 Parliament Week
The whole school took part in a range of Parliament week activities. Sample our work below:
Anti-Bullying Week
As part of anti-bullying week, Y4 took part in an anti-bullying themed mindfulness and yoga session led by our special visitor Victoria from Kalma Juniors. They had a fantastic time!