North 2030 Challenge: Little Inventors
This week we have been asking children to imagine what life could be like in the North when they're a young adult. We have asked children to put their inventor's hat on and design their very own unique invention for the future. Children were encouraged to design an invention that would solve both big and little problems to make life in the future better or more fun. Multiple designs will be selected from each class in Year 3 and 4 and entered in the competition 'Little Inventors 2030' which is running as part of the Great Exhibition of the North. The five overall winning designs will be made by professional makers, designers and artists from the North and were exhibited this summer at the Discovery Museum. Mathew's design was chosen.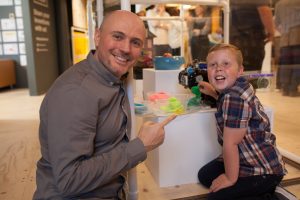 Here is Matthew, age 7, with Chief Inventor Dominic Wilcox. Matthew  designed the Odd Sock Matcher 5000.
Here are just some of the ingenious inventions!
A Taxing Experience!
Year 6 visited the HM Revenue and Customs (HMRC) in Newcastle. The children were given a guided tour of the building and told about career opportunities in the various departments.
Throughout the day they participated in a wide range of team building activities in which they had to problem solve different challenges. Year 6 were made very welcome by HMRC staff and thoroughly enjoyed the experience of working in a  government tax office.