The school meals at Hedworth Lane School are delicious and home cooked. All children eat their meal in our Junior dining hall. All children in the Infant School receive a free school meal and most children in the Junior School choose to have a school dinner. Children in the Junior school can choose to have a packed lunch. If you would like your child to have a packed lunch we ask that it is healthy, nutritious and wholesome.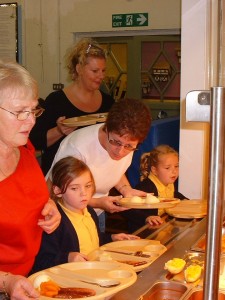 All children take turns on a rota system to dine in turn. Children sit with their friends and enjoy the social aspect of dining. We cater for specific dietary conditions and support those pupils who have specific medical needs. Religious beliefs are respected and we can also cater for those who wish to follow a vegetarian diet.
If your child has any additional requirements, has a medical condition or a food allergy or is a fussy eater we encourage you to come and see us to discuss how we can help you and your child.
To find out more about South Tyneside School Meals Service click here.
To find out the cost of a meal click here.
To see our school menu click here.
Applying for a free school meal is easy and our office team will support you through this process. a successful free school meals application entitles you to fee school milk and will often result in reduced costs such as a discount towards our annual visit to Thurston Outdoor Centre.
To download a free school meals form click here.
School Milk
All school pupils can opt to have school milk every morning. The milk provided is a 200ml carton of semi-skimmed per day during term time
All primary school children who are eligible to receive free school meals are also entitled to free school milk if their school subscribes to the South Tyneside School Milk Scheme. See how to download a free school meals form previously.
Milk is available to all other primary school children. To find out the price for the school year click here.
Fruit in School
If your child is in our Reception, Year 1 or Year 2 classes they are entitled to receive a free piece of fruit or vegetable each school day.
That provides one of their 5 A DAY portions, and the scheme also helps to increase awareness of the importance of eating fruit and vegetables, encouraging healthy eating habits that can be carried into later life.
Teachers find that distributing the fruit in class groups helps to encourage a sharing, calm, social time. It also allows them to incorporate the scheme into teaching and learning. The fruit and vegetables are delivered to schools three times a week to ensure freshness. There is a choice of:
bananas
apples
pears
carrots
tomatoes
easy-peel citrus fruits, such as satsumas
All the fruit and vegetables are washed before they are handed out, which is usually just before the mid-morning break, normally in individual class groups. They are not handed out at lunchtime €" this ensures that the fruit and vegetables supplied are not simply replacing the fruit and vegetables that might have been eaten at lunchtime anyway.
Occasionally we have left over fruit from our infant classes. This does not go to waste, however, but is distributed around our junior classes. We also encourage our junior children to bring something similar from home to enjoy at morning break.